Conifer House Welcomes You!
Conifer House was the first residential care community in Corvallis, Oregon! It first opened in 1989. Today, our trusted community continues to offer seniors an excellent team of caring staff and a beautiful setting to call home. Our team offers both residential care and memory care services. Everyone's aging journey is unique to them. We do our best to meet individual's needs with intention. Plus, we value independence and dignity. Therefore, our primary goal is to support the daily living activities of every individual so they can enjoy each day to its fullest.
A strong sense of community is apparent when walking through the doors of Conifer House. Prioritizing health and happiness matters to us. We are grateful to provide a space for seniors to socialize, gather and relax, especially during a time of life that would otherwise result in isolation. Ultimately, we believe transitioning a loved one to a care facility should be a reassuring and gentle experience.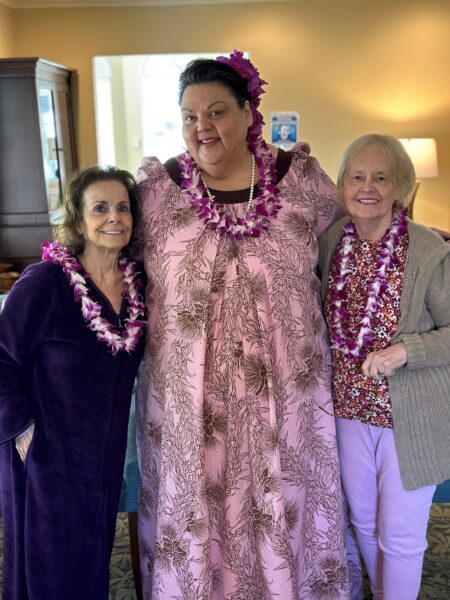 Conveniently located in Corvallis, Oregon, Conifer House Residential Care & Memory Care is easily accessible from Albany, Lebanon, Sweet Home, Monmouth and Junction City, as well as the Oregon Coast. Corvallis proudly hosts Oregon State University and offers quick freeway access to Hwy 99W, Hwy 20 and Hwy 34.
Enjoy this Gazette Times article (May 2023) featuring our very own resident, Louise!
---
---
Who are we?
The Conifer House community values balance when approaching daily life. We accommodate for:
Privacy & Safety
We take pride in our facility. Conifer's open (yet intimate) floor plan and bright courtyards with natural lighting offer resident's freedom while still receiving high quality care and attention. Each room provides a quiet and private experience. Our locally owned facility is staffed with passionate individuals who value connection.
Structure & Spontaneity
Three planned meals (prepared fresh from our in-house dining services) and an abundance of natural lighting give each day natural rhythm while also providing structure and cues for memory care residents. We commit time to movement and exercise each morning. No two days look alike here, and we appreciate that flexibility.
Socialization & Alone-time
Life enriching activities, aka FUN, is very important to us! We tailor activities to the interests of our residents. Offering one-on-one attention, as well as opportunities for down time, is as important as our larger group gatherings. Respecting the need for rest and relaxation is always acknowledged.
Modernization & Tradition
Each caregiver at Conifer House is equipped with Point of Care technology. This means care plans are easily accessible and are used in real-time. Cross communication has never been smoother; caregivers and nurses are noting and adjusting care plans promptly on iPads after every interaction. Call buttons are silently linked to each caregiver's device, achieving low noise levels and a calm environment. Time is spent caring for residents and communication is efficient.
Our Mission
At Conifer House, we seek to positively influence the lives of residents, as well as the staff who care for them. We strive to make life as good as it can be!